Found this monster
here on Kijiji
located in the west coast of Canada.
It can be purchased for a reasonable 20kCAD. Although we'd prefer a fully original E30 M3 (with the exception of the beautiful Style5 wheels), the price tag seems very reasonable given all the goodies and over double the original power!
Here's what the ad reads:
1988 E30 M3. Alpine white. Car had 103k miles on the odometer when I purchased it and I have driven the car only 16tkms (10,000miles). Originally titled in Montana so it can easily return to the USA. The car has an extensive list of modifications. The car is amazing to drive and to look at. On the track the car is very fast, almost un-drivable at the high boost setting (15psi) so I would suggest the lower boost setting (10psi). At 18psi the M3 made over 422bhp @5300rpm and 445ftlbs @4250rpm. At 15psi the car makes 401bhp with 428ftlbs (with over 300ftlbs of torque right from 3000rpm to redline). All the dyno runs were made in Calgary, Alberta, Canada (4000ft above sea level). The car is very easy to drive and quite tame with surprising traction, except first gear.

The engine is an M30 3.5l motor from a 1991 735i (all stock internals) with VAC Motorsports 0.141" MLS head gasket and an adjustable camshaft gear. All custom engine mounts and transmission mount. The engine management is done with Autronic SM4 with larger 60lb injectors, custom coil pack, plugs, and wires. There is also a Porsche 944 turbo fuel pump. The turbocharger is from Turbonetics. A ceramic ball bearing T55/68 unit is mounted to a turbocharger dynamics exhaust manifold. There is also a Racegate wastegate which exits to atmosphere. The exhaust system consists of a custom 3" down pipe joined to a factory race exhaust taken directly from a 1992 factory DTM race car. Custom front mount intercooler with all stainless plumbing and samco silicone sleeves with heavy duty clamps and a turbosmart blow-off valve.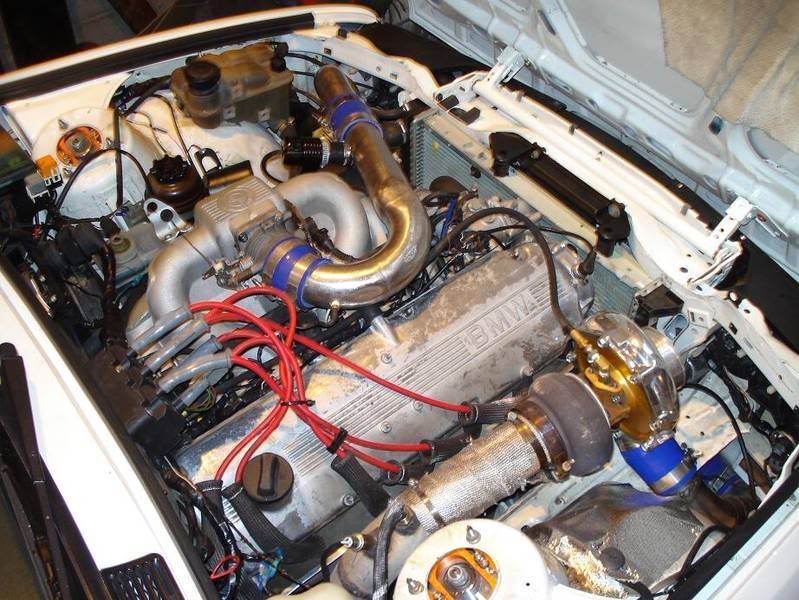 E34 M5 lightened flywheel with stock M5 Sachs clutch. Dog-leg close ratio 5 speed gearbox from Eurospec M6. Custom shortened M3 driveshaft. 2.79 LSD rear diff. The engine has just recently been taken out and all the gaskets and seals have been replaced so there are no leaks.
The suspension is all modified including Ksport fully adjustable coil-overs, adjustable upper camber plates, 1997 M3 front control arms with offset control arm bushings. The rear suspension has also been modified by means of slotting the subframe for the control arms to adjust toe and camber. The rear bushings are all delrin and the rear differential mount is an adjustable aluminum one from DTM. There is also a Hartge front upper strut brace installed.
The interior is quite original except for the addition of Schroth 4-point harnesses, a Heigo roll-bar, and a Pioneer CD player. The boost is controlled with a Greddy Profec-B boost controller. Outside there are additions like the front Evo splitter, rear Evo wing with the carbon fiber 'Monza' trim spoiler. Also, there are Kamei eyebrow spoilers. The fenders were all rolled when the car was repainted a couple years ago.

The wheels are from a 1995 750il. They are factory BBS RS wheels 8.5" and 9.5" wide and 18" in diameter. The front tires are almost new Marangoni 225/35's and the rear tires are about 50% used up and are Continental sport contacts originally from a Porsche carrera.
I have not had any major problems with the car and have built it and owned for almost 3 years now. The car does have some road noise from the rear solid suspension bushings as would be expected. The car has been repainted before and has a few minor chips in the paint as would be expected for being 20 years old. This car is not a concourse show car but a really good daily driver and shows well but most cars have faults when you look at them really close.