One day back in the 1990s a middle-aged man from a sleepy village in Lincolnshire decided that he'd start a new project saloon car.
Over a decade and two marriages later PPC's own Charlie Broomfield had a road legal matt black Rover SD1 powered by a 27-litre V12 Merlin tank engine.
What possessed Charlie to decide to build a car with an engine that also powered World War Twos greatest fighter plane is anyones guess, but what Charlie claims is that he wanted to do 200mph.
However, while the rest of us would just go and buy a motorbike Charlie went on and fulfilled his dream of the ultimate Rover.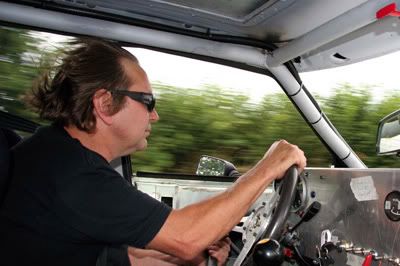 With 1550lb/ft of torque at 1600rpm, the SD1 should have ample muscle to break the magic 200 mark.
Not that it stopped Charlie from rebuilding the huge engine, and adding his own home made throttle bodies to get a smoother power delivery and release yet more horses from the Meteor lump.
With a Jaguar V12 TH 400 autobox handling the transmission side of things, the SD1 is actually surprisingly docile. However, even at its 400rpm idling speed the engine produces more torque than the cars original engine at redline.
Charlie also fitted an LPG kit to the Rover to attempt to keep fuelling costs at a slightly less ridiculous level.
To allow the engine to run smoothly with the throttle bodies Charlie has wired in an Emerald ECU set up which keeps the Rovers savage abilities under wraps until chosen to be unleashed.
Charlie is an engineer and thus basically everything you can see on the car has been fabricated, or adapted by the man himself to fit. The back axle is from a Ford F150 pick-up truck, the drivetrain has parts from a Leyland Leopard bus, and a set of Jag XJR wheels attempt to keep the tyres from spinning up under the strain of all that torque. There is a slight issue in space with the Rover. Granted, the SD1 has a pretty cavernous engine bay, but this is a tank engine we're talking about. Half of the 27-litre lump fits sweetly inside the bay, but the rest of it juts rather disconcertingly into the cars cabin itself.
Not that it bothers Charlie. At least he doesn't have to worry about fitting a heater. Another problem with the colossal engine is that it's so big it comes up further than the windscreen frame. That's no problem for Charlie though. No screen and a set of sunglasses solve this problem.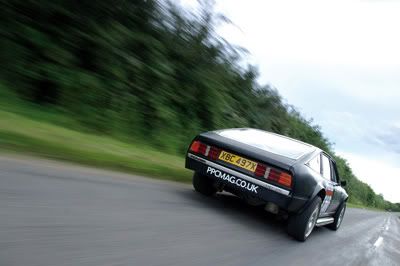 Despite the Merlin engines aeronautical heritage Charlie is keen to keep the Rover on the ground during his 200mph attempt. As a result he has taken steps to make the Rover more aerodynamic, making consultations in NASCAR circles and fitting a front spoiler, making the underside as close to flat as possible, and attaching a rear splitter. With any luck that should keep Charlie's feet on the ground.
source: ppcmag